Whew! I think I need a vacation from our vacation! This past week has got to be one of the most tiring weeks of my life. But it was so worth it! We had an absolute blast on our vacation! Warning: this is probably going to be a long blog entry since I wasn't able to write in my blog while we were gone. Dummy me forgot to take the charger for our laptop.....go ahead....say "DUH!" I know you want to :) Anyway, I figured I'd break down this blog into days & add some pics of the trip, too:
Day 1 (Sunday): We left the house around 2:30 p.m. to drive to Ludington, MI to pick up the SS Badger Car Ferry (the above pic is of Jim & I on the ferry.....windblown hair & all :). The ferry ride would have been okay if it weren't for me getting a little sea-sick. Dummy me again didn't take my Dramamine until we were already moving. But it was a beautiful boat ride.....I took lots of pics of the Michigan coastline (is it considered a coastline on a lake?) plus pics of the sunset on the water (see pics below). Jim & I also played Bingo on the ferry & I won a pilsner glass. We arrived in Manitowoc, Wisconsin around 11:00 p.m. & then drove to Green Bay & spent the night there.
Day 2 (Monday): We drove from Green Bay to Bloomington, MN, which was about a 4 1/2-5 hour drive & VERY boring! Nothing but mile after mile after mile of farmland & cornfields. When we arrived at our hotel in Bloomington, we were quite disappointed in it. It was a Baymont Inn & to put it nicely.....a dump! There was a police car there when we pulled up with 4 people being questioned by the officer.....first sign to get out of there! Then when we got the rooms, they had this awful smell to them, so Jim called & spoke to the manager at the front desk about checking out. We found another hotel (Embassy Suites) that had a suite available, so we quickly jumped in our car & went over there. What a gorgeous hotel that was! The master bedroom was painted almost exactly the same color plum as our living room, so I immediately felt right at home :) (See pics below) Since the drive to Minnesota was kinda long, we decided to just stay in the hotel that night & order in some pizza.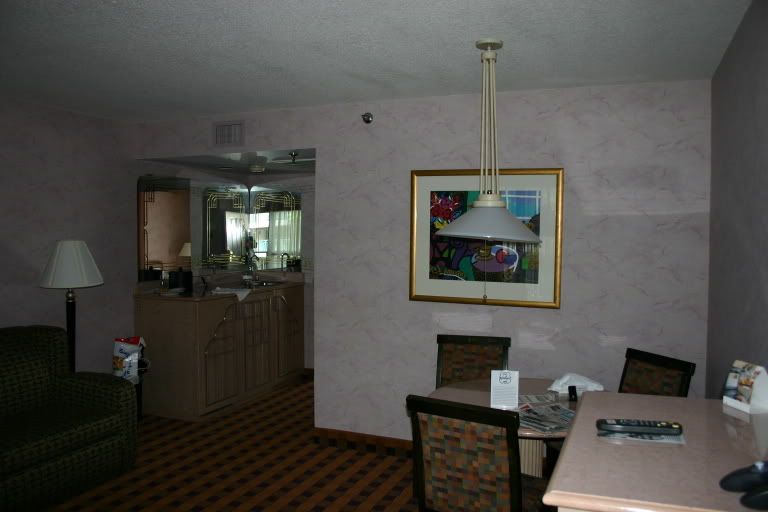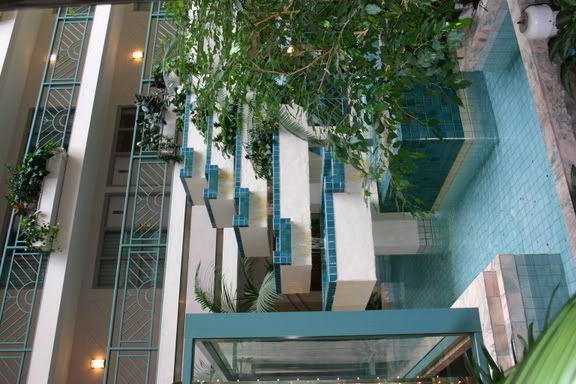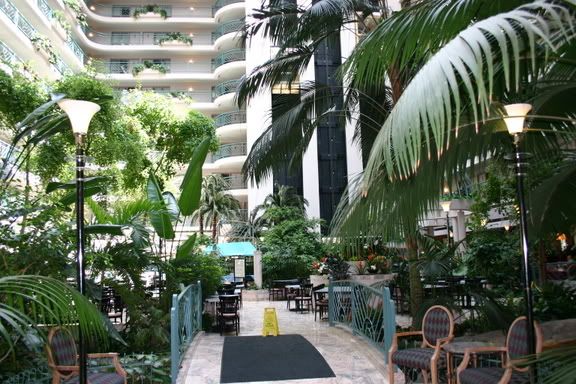 Day 3 (Tuesday): We got up & ate an awesome breakfast at the hotel. The cook made the absolute best pancakes I've ever tasted! Then we drove to the Mall Of America, which was less than 5 minutes away from the hotel. This mall is gorgeous (see pic below)! If you've never been there before, I highly recommend taking a trip to go there. Although it was actually smaller than what I had imagined in my mind, I was in shopping heaven ;) And I think the kids were, too. My dh & I did the first & third floors on Tuesday & then the second floor on Wednesday, but the kids got in all 4 floors the first day. The store that I was the most excited about going into was Archivers, of course. But I was actually a little disappointed in it....I was hoping to find a bunch of the newest stuff, but they didn't have any of it yet, not even the new Basic Grey PP. Would you believe I only spent $54.13 there? DH couldn't believe it! LOL But then when I found the QVC store, I went nuts ;) A lady did a demonstration of the Bare Escentuals make-up on me & I was immediately hooked! This is the first make-up I've found that covers my rosacea plus it doesn't even feel like you have any make-up on (which is one thing I can't stand about liquid foundations). After shopping for about 5 hours, the kids were complaining that their feet hurt (which mine did, too), so we went back to the hotel & relaxed for a little while & then went out for dinner, then back to the hotel for the night.
Day 4 (Wednesday): Another day spent at the MOA. Today, Jim & I did the Underwater Adventures which was really neat.....the kids didn't want to do it, but I think they both would have enjoyed it if they did. Then I found the Bare Escentuals store & had a guy give me a makeover, then I purchased some more make-up there. While I was getting the makeover, Cassie told us that she lost Emma. PANIC TIME! We ended up contacting security & they told Jim that they have at least 100 of these per day. About 15 minutes later, they found Emma in front of the Hot Topic store. She was crying & told us that she was homesick, so that brought tears to my eyes as well. We decided that we would all walk around together for a while & went into the Build-A-Bear store. Cassie wanted to build a cat & I decided to build a dog for my granddaughter & a Koala for me :) I named the dog Shelby after our Shelby that we had to have put to sleep last year & gave it a cute little NBA basketball outfit (I know Shawn will love that!). Then I named the Koala Karen after my sister since she used to give me Koalas for Christmas every year & I dressed it up in a Harley jacket, black boots, a Harley bandana & angel wings. I gave it the birthdate of August 29, 2004, the day Karen & Jimmy were taken from us.
We ate dinner at the mall & then Jim wanted to do the Nascar Simulator before we left since this was our last night in Minnesota. I let Jim drive & I was the passenger for one race (he did 2). I probably shouldn't have eaten first before getting on that! I was getting a little dizzy, but at the same time, I was cracking up laughing the whole time! I couldn't believe how real it felt. Now I wish I would have driven one myself.....definitely next time since we're already talking about going back to the MOA someday.
Afterwards, we went back to the hotel to start packing for our trip back to Wisconsin on Thursday since we decided to stay a night in Milwaukee on the way back to break the trip up a little bit. Around 12:30 a.m., a very strong thunderstorm moved through the area, so needless to say, I wasn't falling asleep anytime soon.
Day 5 (Thursday): We decided not to rush to get to Milwaukee & I was actually kinda sad to leave Minnesota. We checked out of the hotel around 11:30 a.m. only to come down to a flat tire. Seems like I can't go on a vacation without getting a flat anymore! So we drove over to Sam's Club to see if they could fix it, but it had 2 nails in it & one of them was right on the edge, so they didn't advice on trying to patch it. They put our spare tire on the other rim for us & off we went, an hour later. When we arrived in Milwaukee, it was almost 6:00 p.m. We stayed at another Embassy Suite Hotel, although this one wasn't nearly as nice as the one in Bloomington. Then we walked next door to a restaurant called Champps (yep, there's 2 ps). Their food was excellent, but kinda pricey. $90.00 later, we left & drove over to a mall just to walk dinner off.
Day 6 (Friday): We had to be at the ferry by 12:15 p.m. as it was leaving at 1:15 p.m., so we left the hotel at 10:30 a.m. & went by downtown Milwaukee. My dh took this picture of a stadium (I think he said it was a baseball stadium.....shows you what I know about baseball, lol) & then I took this picture of this gorgeous Church (we were stuck in traffic for road construction, so that's how we were able to get the pics):
As soon as we arrived at the ferry, I immediately took my Dramamine.....there was NO way I was going to get sea-sick on the way back! It was a gorgeous day out & I even got a little bit of a tan while we were sitting up top. Then we played Bingo again, but neither of us won anything this time. Ooops, wait.....Jim did win a SS Badger pencil for answering a sports trivial question right :) When we arrived in Ludington around 6:15 p.m., Emma's parents were waiting for us at the pier to pick her up & after they finally got our car off the ferry, we all went out to dinner. Then we had another 3 1/2 hour drive back home. We arrived home around 11:30 p.m. & after unloading the car, we all went to bed. More pics from the ferry ride below (first one is of the SS Badger; 2nd pic is of a sailboat that was coming in to dock just as we were leaving Manitowoc; 3rd pic is of the kids hiding from getting their picture taken once again; 4th pic is of Jim & I on the ferry with windblown hair again; 5th pic is of the US Coast Guard boat that comes up along the ferry as it pulls into port & the last pic is of Ludington, Michigan):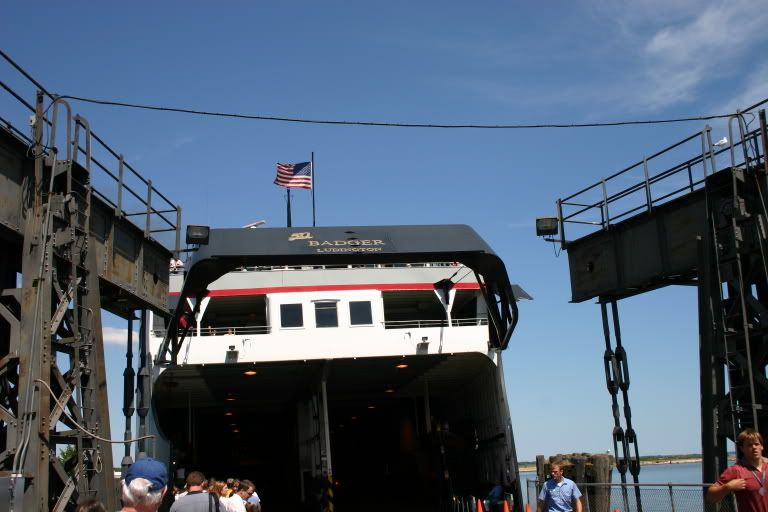 Saturday afternoon, Cassie & I went to pick up the dogs from the boarding place. As soon as Reeses got home, he started having diarrhea.....NOT what I wanted to come home to! Today, Jim took him to an animal hospital & they couldn't find anything wrong with him, so they gave us a prescription to help him. I sure hope it works & FAST! We've also been giving him some Imodium, but now I'm gonna have to have all our carpets shampooed :( What a mess....literally!
Now I wanna do some scrapping this week as soon as I get the rest of the film developed (all the above pics were taken with our DRebel). I love vacations, but I also love coming back home again. Nothing like sleeping in your own comfy bed :)
Overall, we had a wonderful time, even with getting a flat tire. This was exactly what we needed! That's all for tonight as I'm still trying to recooperate. Hope you made it this far :) Feel free to leave a comment if you'd like as I really enjoy reading them & getting feedback on my blog.
Until I blog again,
B