Yesterday, The Scrapbook Emporium was having a 5th Birthday Sale with everything in the store 20% off. This was my first time going to this LSS & I couldn't pass up a sale :) Here is what I ended up bringing home with me: some Christmas papers (SEI & Reminisce which are shiny), Basic Grey chipboard monograms, Making Memories Christmas Foam Stamps & some brads for a swap I'm working on, some Fasternater Holiday Staples (really cool!) 2 sets of Karen Burniston Epoxy Stickers, a rub-on tool & some white markers (2 of them are gel pens & the other one is a white chalk pen). I also bought some things for my Secret Santa that I'm participating in on 2 Peas, but I couldn't include them in this picture in case she reads my blog :) I wasn't real impressed with this LSS, though. The way they had their displays just kinda scattered throughout made it hard to really find anything. Plus they didn't have the best paper selection to choose from. Ah well, I'm happy with what I did buy :)
Today is a sad day for me as it was Rusty's final Nascar race. When they interviewed him after the race today, I literally cried! I'm gonna miss seeing him in that # 2! I took these pictures of just some of my Rusty memorabilia that I have hanging in my scraproom: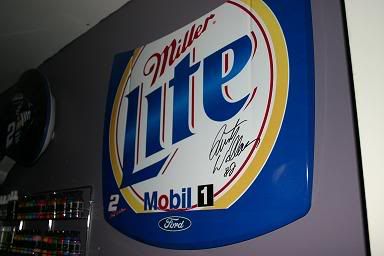 That's it for now. Hopefully tomorrow, I'll have a more exciting POTD to post.
Have a great night,
Benita