I took this picture of our dog Onyx this morning as she was sitting by our back door watching the snow fall. I'm not too thrilled with how it turned out, though.....it was a LOT darker than it is now & this is the best I could do with making it lighter plus I changed it to black & white. It's hard to get my dogs to stand still for their picture & after I took this one, I wasn't even sure I was going to post it in my blog until I got a call from my brother-in-law this morning. He asked me to call my sister Linda because their pug Candy just passed away last night :*( She is so upset right now. She said that Candy was sick the other day & hasn't been eating, so she thought that maybe she just had another seizure since she did have them occassionally. She said that Candy was lying in bed with her last night & started shaking really bad. So she put some blankets on her because she just thought she was cold. Linda then got up out of bed & when she came back, she put her hand on Candy & she couldn't feel a heartbeat. She doesn't know if she ended up having a heart attack or what & she can't afford to have an autopsy done to find out. Candy was only 5 1/2 years old & she was a really sweet dog.
Now I have the hard job of telling my daughter today when she gets home from school. Cassie loves pugs & always played with Candy everytime we went home to visit, so I know that she's going to be heartbroken as well. Sometimes we tend to forget how much our pets become a part of our family. And sadly, they can't tell us when they're sick or in pain or if something's wrong. We often wonder why things like this happen. But sometimes, we just never know the answer unfortunately.
The next picture is of the snow we got last night. I was actually hoping for more. Wait a minute......did I just say that??? Am I nuts? I do love the first snowfall of the season, but after that, it can all go away!
Hope you have a great Thursday,
Benita
*********************************************
Edited To Add: In honor of World Peace Day & Theme Thursday POTD, I'm adding these pictures of some things that bring me peace. One thing that always brings me peace is the sky. I snapped these pictures this afternoon on my way to pick Cassie up from school: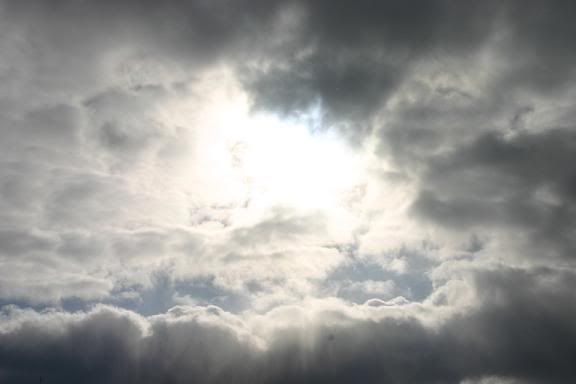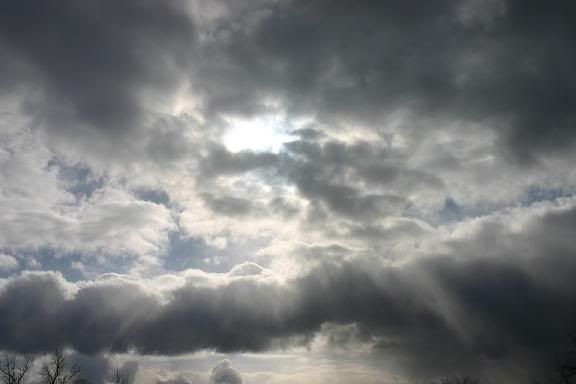 I have always been intrigued by the beautiful views that God brings us in the sky. Whether it's a sunrise, sunset, clear blue sky, rainbow or even cloudy, I just love looking up to the sky each & every day.
Something else that brings me peace is this owl necklace & prayer box that I have hanging from my rear view mirror in my Durango: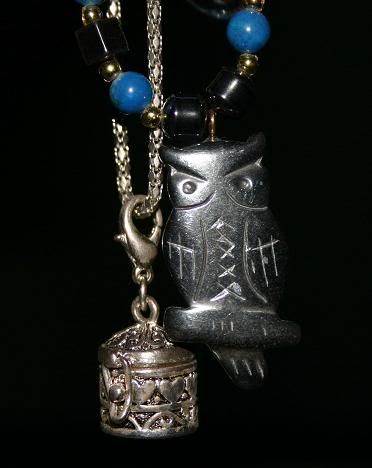 Why do these 2 things bring me peace? Well, the owl necklace belonged to my sister, Karen. After her funeral, her 2 sons let us go to their home & pick out some things to keep that belonged to Karen. Karen loved owls & had a HUGE collection of them, so when I saw this necklace, I just knew that I had to have it. But the best part.....she not only had 1 of these owl necklaces.....she had 4 of them! So my other 3 sisters each got one, too. We have no idea why she would have 4 of the same necklace, but we're all glad that she did. The prayer box was a gift from Denise, my niece. She made one for everyone after we lost Karen & Jimmy. Looking at it in this picture made me realize that it needs cleaned.....bad!
So there you have it.....just a small sampling of a few things that bring peace into my life.