I never thought I would be so happy to call my home my Home Sweet Home until the day we returned from our vacation to Tennessee, North Carolina & Pennsylvania! Don't get me wrong.....I love going on vacations, but after taking 2 in the past month, I just wanna stay home now for quite a while! Once again, I'm going to break down our vacation in this entry into days:
Day 1 (August 24th): We left Wednesday morning & drove through Ohio & Kentucky to Tennessee. It was a little over 11 hours due to a traffic accident in Kentucky in which we had to take an alternate route to get back onto I-75. From what we understand, a van swerved in front of a hazardess waste truck & both the husband & wife in the van were killed instantly :( They had to shut down I-75 south for several hours to clean up the spill from the truck. When we arrived in Tennessee, we checked into our hotel & almost immediately went to sleep.
Day 2 (Thursday, August 25th): As we were pulling out of the hotel parking lot this morning to go shopping, Jim stopped me when he saw a Ford Dealership across the street.....this wasn't just any Ford Dealership....it was Rusty Wallace Ford! Of course I had to pull in & get some pictures :)
As we were sitting in the parking lot, a salesman came out & said he knew we were Rusty fans right away. He took us into see his office which was like a Rusty Wallace museum! He had pictures, clocks, flags.....you name it. I wanted it all! Then he told me that they had some replica hoods for sale that Rusty autographed. Yep, I bought one :) He was also telling us that Rusty was going to be at his Pontiac Dealership between 3:30 & 4:30 that afternoon signing autographs. Jim & I tried to go, but we never did find the dealership :( We even called & asked for directions, but the lady got us really lost! I was so disappointed! I've had the opportunity to meet Rusty before, but it really would have been special meeting him again since he's retiring after this year.
Jim & I headed to Sevierville & Pigeon Forge to do some shopping. First store I knew I had to find was Your Scrapbook Superstore & Warehouse ;)
Really nice store, but I was a little disappointed that they didn't have any new pattern paper. They did have some Prima Flowers, though, so I'm glad I made a list before I left of what I still needed. I'm determined to get every bottle of every color of every size ;) I bought a few other things as well. Then Jim & I went to the Nascar Cafe for lunch. Boy, is that place cool!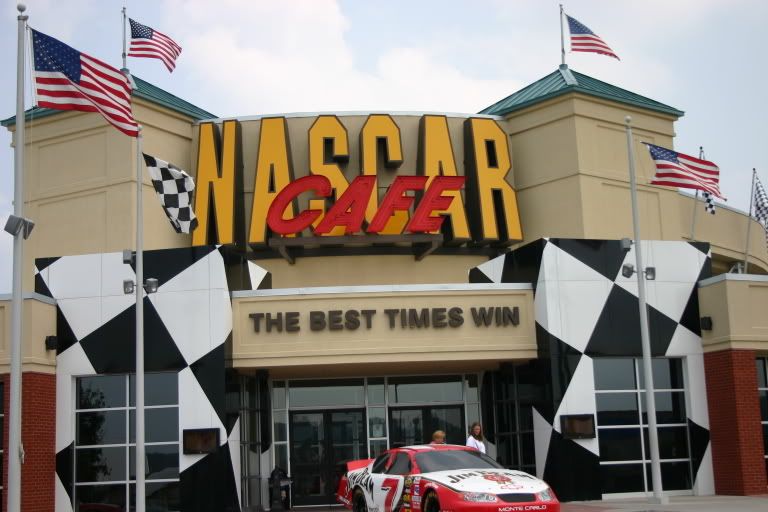 While we were there, one of the waitresses was telling us that Kasey Kahne was going to be at the Stony Mountain Knife Works Store between 6 & 8 p.m. signing autographs. I just knew we had to go! We got Kasey's autograph on 2 knifes that we bought there that are a limited edition of 300 (one for us & one for my Dad) plus on a diecast car that we took with us & a picture. He is such a sweetheart! And a cutie, too :) (See my previous blog entry for a picture of me with Kasey.) We then headed back to the hotel & called it a day.....a very exhausting day at that!
Day 3 (Friday, August 26th): I knew one of the things I wanted to do while we were down this way was to go to the Biltmore Estate. I see commercials all the time on HGTV about it, so I wanted to see it in person. Wow, is this place beautiful! Here's a picture of Jim & I in front of the Estate:
The only thing I was disappointed with is the fact that you can't take any pictures inside the Estate. But I did manage to snap a few ;) Here's one of the bowling alley in the basement:
When we saw that, I just knew we had to get a picture of it, being the bowling nuts that Jim & I are :)
We headed back to Tennessee & decided to do some more shopping as I wanted to go to the Boyd's Bear Country store:
I wasn't much of a Boyd's Bear fan until I walked into this store! I bought myself a Kasey Kahne Boyd's Bear & Jim got a Kevin Harvick one. We also made a cat for Cassie in the workshop. They had so many different types of bears that I could have spent a fortune there if I wasn't careful! After we left the Boyd's store, we went to the Nascar Speedpark & picked up a few souvenirs there then we headed back to the hotel as we knew that we were in for a very long day on Saturday.
Day 4 (Saturday, August 27 (off to BRISTOL, Baby!!!)): We had to check out of our hotel by 11:00am & then we went to Perkins for breakfast before heading up the road to Bristol. Almost every person in Perkins was going to the race & even the waitresses had Nascar shirts on. After breakfast, we had about an hour & a half drive. We hit a little bit of rain along the way & just as we arrived, we started getting out of the car, but quickly jumped back in as it started raining again. I was so afraid that the race was going to get rained out, but luckily, it didn't. From where we parked, we had to walk about a mile to get to the track: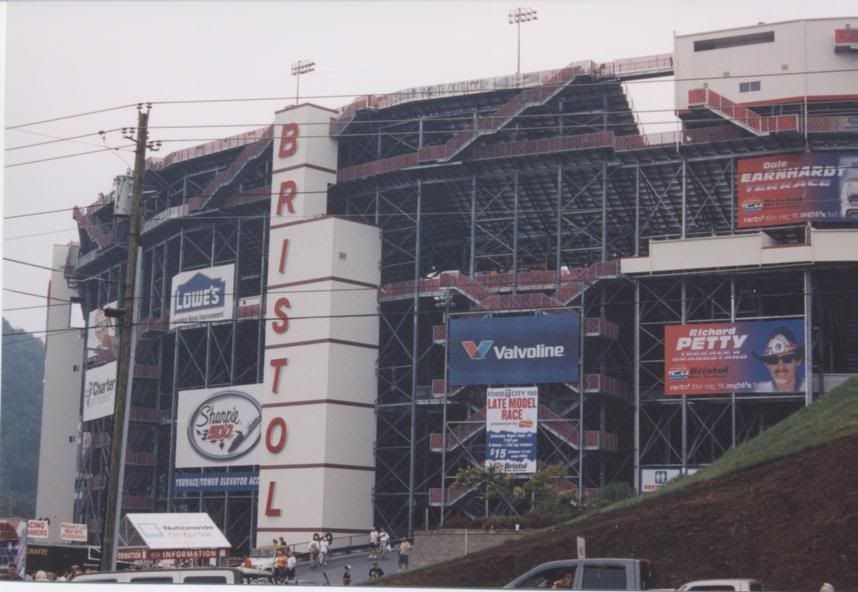 Our seats were awesome, even with the pole in the way. Like they say, there isn't a bad seat in the house at Bristol! We were underneath the awing of the seats above us so if it did rain, we wouldn't have gotten wet at all: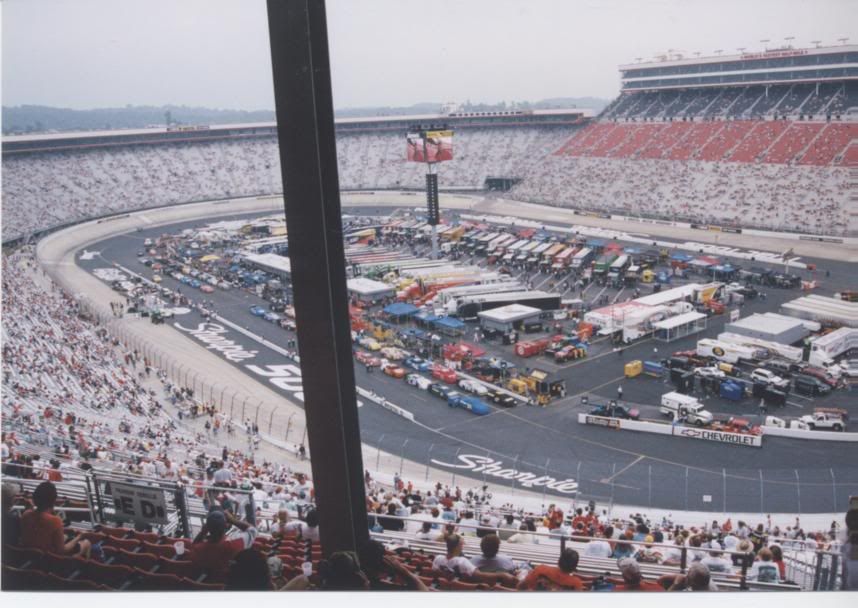 Right after the driver introductions, they honored Rusty Wallace with his own grandstand section & a gorgeous trophy in the shape of the speedway. Then a section of the crowd held up letters to form the word Rusty in red, blue & white. It was so cool! There was a parachuter that came down into the track with a US flag attached to him....that was really neat:
I have so many pictures of the race, but I'm just posting the start of it here.....and we're OFF: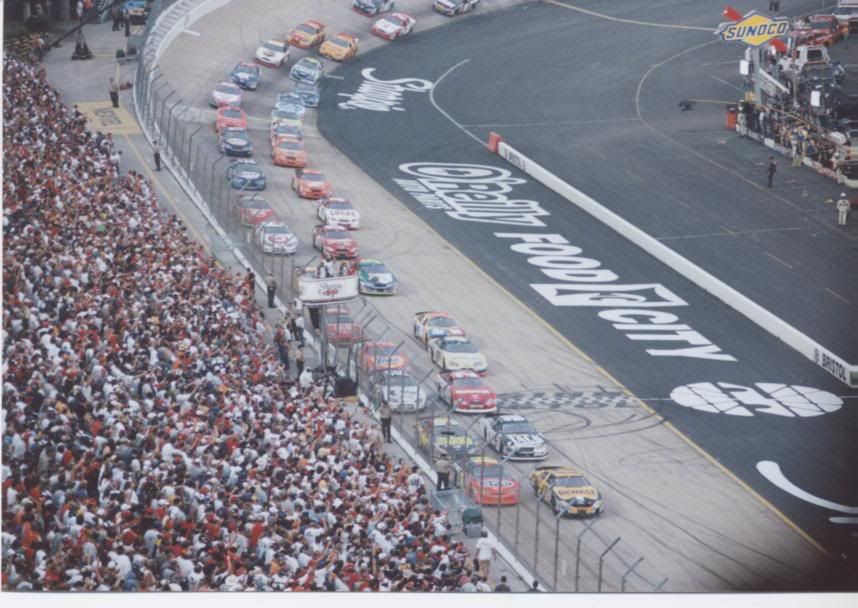 Unfortunately, Kurt Busch won the race & led most of the laps. Both Kasey Kahne & Kevin Harvick ended up in crashes which put them out for most of the race. But at least Rusty had a decent finish.....5th! I was really hoping he would have won (and he may have if he would have pitted when everyone else did), but I'm happy that he's still 4th in points right now :)
After the race was over & we got through the crowd (2 hours later!), we drove up to Roanoke, VA as we had reservations at a hotel there since we knew we were going to PA the next day. BIG mistake! It was a 2 1/2 hour drive & Jim & I were both exhausted already. But we finally got there around 3:30 in the morning & got to sleep a whole 5 hours before having to head to PA.....Zzzzzzzz.
Day 5 (Sunday, August 28th): We didn't arrive in Williamsport, PA until just after 8:00 pm as we hit a LOT of traffic on I-81 because of the race. As soon as we got there, the first thing we did was to go visit my Mom in the hospital. She finally seems like she knows what is going on & is pretty much back to herself. She's in a LOT of pain right now as the back of her leg is cut open & they have some type of foam inside of it to keep the muscles relaxed. She seemed really glad to see me (for a change). We stayed there for a little over an hour & then headed to the hotel to get some much-needed sleep.
Day 6 (Monday, August 29th): Today was a very difficult day! Not only was it the 1 year anniversary of the day that Karen & Jimmy were killed :*( , but it was also the day that Hurricane Katrina hit the gulf states & destroyed so many homes & businesses, killing people & leaving thousands upon thousands of people homeless :( It truly is devastating!
I came up with the idea for all of us to drive up to Montrose to the cemetary today so that we could see the gravesite & also so I could put the dirt back on the grave that I got the day of the funeral. Unfortunately, Mom couldn't come since she was still in the hospital, but all 4 of us sisters went along with Dad, Jim & Dave (Linda's husband). The headstone is absolutely gorgeous! So much detail in it. It has an owl to represent Karen, a deer to represent Jimmy as he loved hunting & then a couple on a motorcycle along with some wedding bands & the date they were married engraved on them:
We all cried, hugged & shared some memories while we were there. On the way back, we stopped by the accident scene & just stood there, staring at the crosses along the road for a few minutes:
I still can't understand why God took them away from us! It just really hurts & I miss them both so much!
When we got back to Williamsport, Barb, Linda & I went out to the hospital to see Mom. She was in a really bad mood today & complaining about everything & anything. Then she wanted one of us to go pick up a cell phone she had ordered. Why she wants a cell phone while she'll still be in the hospital for quite a while is beyond me! Then she started saying some things about her Power Of Attorney & contacting her lawyer. Apparently, she was in the process of having me taken off as her POA & putting Linda on. Fine by me because I do NOT want to be held responsible if anything is missing, etc.
After we left the hospital, Jim & I went up to my Dad's house to see him. It was so nice to just sit & talk to him. My Dad left my Mom when I was only 9 years old, so I never even really knew my Dad very well. But I'm working hard on changing that!
Day 7 & 8 (Tuesday & Wednesday, August 30 & 31): Nothing really exciting happened. Visited my Mom again & then on Tuesday night, we went to the Democratic Club with my Dad, Barb & her boyfriend Doyle. Wednesday, we went to Trail Inn with Dad & Donna & while we were there, I got to really talk with my Dad. I learned some things about my family that I never knew before. I won't share them here, though as it's a very long story. But I'll just say that I'm so glad that my Dad told me what he did! I feel so much closer to my Dad now.....and I don't ever want to lose that feeling again!
Day 9 (Thursday, September 1st): Well, it was time to head back home. But I gotta admit, this is the first time I actually didn't want to leave! It was really hard to leave, knowing that my Mom is still in the hospital & that I'm just now forming a relationship with my Dad after 30+ years. After going to see Donna at her station & say our good-byes, we went out to the hospital to see Mom again before leaving. She was just getting ready to go to therapy, so I decided to go with her. She did really good.....she was able to take a few steps with a walker. It was so hard to leave her, knowing that she's in so much pain right now & there's nothing I can do to help :( But we had to get back home. We didn't even leave PA until 2:00 in the afternoon. We decided to drive through Ohio instead of going through Canada because of everything that has been going on with gas, etc. due to the hurricane. I'm just glad we made it back home! We came home to a brand new ceramic tile kitchen & entryway floor. The guy that installed it did an excellent job, but now I'm questioning myself on the color I picked . Ah well, too late now! Now it's time to get back into a daily routine & relax at my Home SWEET Home :)
I think I'll stop for now since this blog alone has turned into a book :) Thanks for reading & I also appreciate any comments you would like to leave. I always read them & you don't have to be a member of blogger to leave a comment. Just click on the "comments" link at the bottom of any entry you want to comment on & type away :)
Until I blog again,
Benita
P.S. Please ignore any typos that I may have in this entry as it's too long to even proofread right now ;)